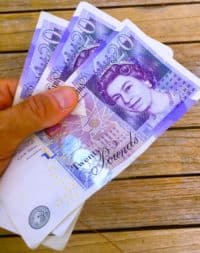 UK-headquartered Hastee, an on-demand wages app, revealed on December 2 that it finalized  a $270 million round consisting of equity and debt financing.
Umbra Capital, a newly launched modern merchant bank that makes investments in the UK's SMEs, led the equity portion of the investment round, which was valued at around $20 million. Hastee also managed to obtain a $250 million credit line.
IDC Ventures, the VC division of Grupo IDC, an investment bank based in Latin America, and various other investors also took part in the funding round. This marks Hastee's second round of external funding since the company was established in 2017. The firm privately raised $5.7 million via a seed round in May of last year.
Hastee has experienced steady growth, with CEO and founder James Herbert telling Crunchbase that the company's revenue increased by around 1100% from December of last year to November 2019. The firm's headcount jumped from 19 in 2018 to currently at 48. Hastee says it's presently working cooperatively with almost 400 employers.
The company's app is accessible in certain parts of Europe and Hastee says it "has global ambitions."
The Hastee app lets workers access up to 50% of their earned income at any point during a month. The company aims to "bring financial freedom to workers across the UK."
Hastee says that the UK is "reliant" on high-cost credit, which includes typical payday loans, credit cards and overdrafts. Hastee's services involve funding employee withdrawals on behalf of the firm, with workers reimbursing it on the "normal payday." Hastee says its services are free to offer and can be "integrated seamlessly with existing HR and payroll processes."
Employees that use Hastee get their first withdrawal every month, up to £100 (appr. $130) at no extra cost. Additional withdrawals can be made, but are subject to a 2.5% transaction fee.
Hastee's clients include London City Airport, Avery Care Homes, and Mitchells & Butlers, which is one of the largest restaurant operators, and local pubs and bars.
According to Hastee's management, there's no interest charged and there's also no chance of getting caught up in a negative financial spiral with the company's solutions. This, as the balance is settled right after salaries are paid each month. The company's solutions are supported by a financial education hub.
Gustavo Diquez, managing partner of Umbra Capital Partners, said that the latest transaction is among the "largest fundraisings in the data-driven financing space to date."
Hastee says it plans to use most of the investment to finance withdrawals. The company also intends to "increase the scale" of its app.
Register at Binance