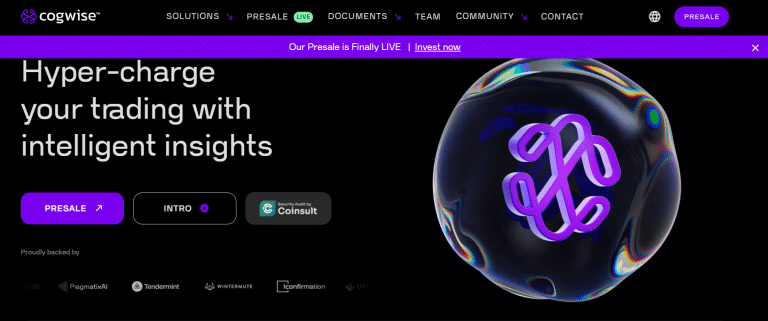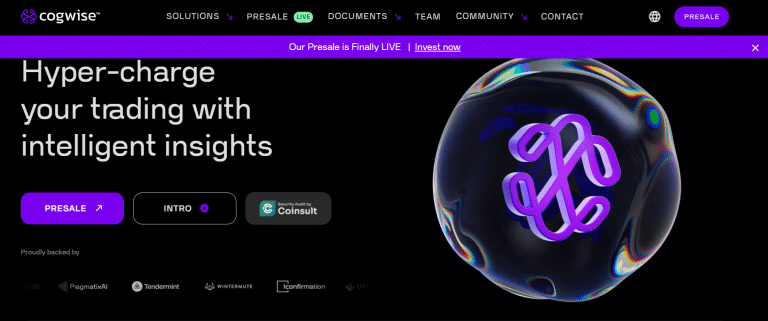 Cogwise ($COGW) is a hot new crypto project combining the cutting-edge technologies of artificial intelligence (AI) and blockchain. This innovative approach positions Cogwise as an important tool for crypto enthusiasts, investors, and traders wanting advanced and detailed market analysis.
It aims to transform the crypto trading experience by making AI-powered blockchain applications more accessible and efficient for many users. The project has recently achieved a significant milestone, surpassing the $1 million mark in its presale, showing strong community support and trust in just a few weeks of launch.
Cogwise is in its 3rd presale stage at press time, selling out for $0.03. The planned listing price is $0.065, offering early buyers an opportunity to get a 116% ROI on the current price. Over 61 million tokens have been sold since its launch, indicating strong market confidence in Cogwise's vision and future.
What Is Cogwise?

Cogwise is an innovative platform at the intersection of AI and blockchain, built to provide multiple tools and insights for users in the crypto space. Aimed at investors, traders, and developers, Cogwise offers a blend of quick, accurate information and user-friendly features for building and interacting within the crypto environment.
The project uses advanced AI algorithms, including Natural Language Processing (NLP), for intuitive human-like text interactions and comprehensive market analysis. Its capabilities include tokenization, sentiment analysis, and trend tracking. The Cognitive Engine ensures consistent AI results, which is crucial for trading decisions.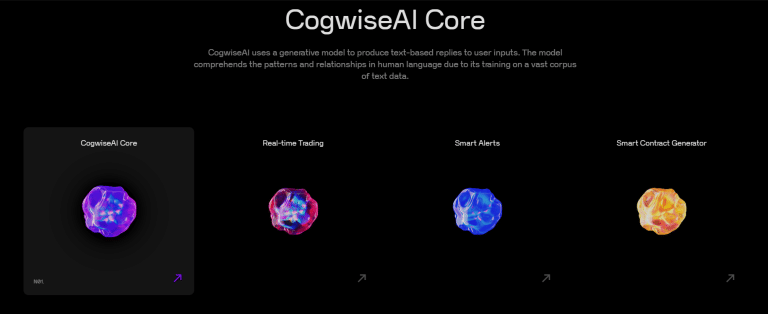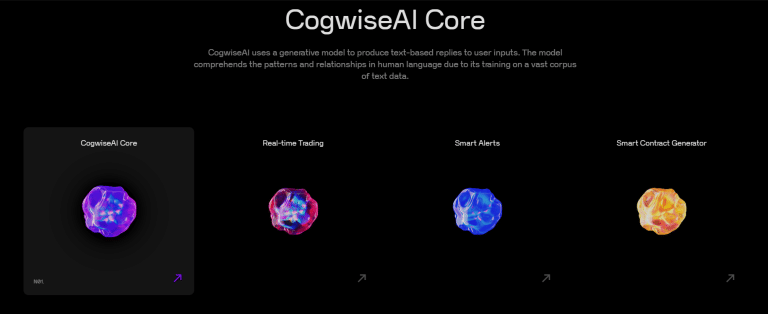 Key to Cogwise's appeal is its 'AI Core,' a conversational assistant that can simplify complex tasks such as smart contract programming and market analysis. This core functionality is not just a chatbot but a dynamic AI tool designed to guide users in making informed decisions.
Complementing this is the Smart Contract Generator, a new feature that democratizes the creation of smart contracts by eliminating the need for coding expertise. Users can simply state their requirements, and the platform generates secure, compliant contracts.
To ensure the integrity of these contracts, Cogwise introduces a Contract Auditor, allowing for immediate auditing and issue identification in contract codes. This feature is crucial in maintaining secure and effective contracts.
Furthermore, the Cogwise Virtual Operating System (CVOS) promotes decentralization, featuring unique EVM compatibility and enabling on-chain AI inference. This functionality allows users to execute complex AI models directly on the blockchain.
Another significant aspect is the News Aggregator, which uses advanced AI algorithms to deliver real-time insights into trading, taking data from diverse sources like social media and news outlets to inform trading decisions.
Cogwise also offers wallet tracking, leveraging algorithms to spot and respond to major market transactions, improving trading efficiency.
$COGW Token Burns, Staking and Rewards

The $COGW token is fundamental to the Cogwise ecosystem, serving as a key to accessing its features and as a utility token with multiple benefits. It enables users to unlock premium AI features.
An important feature of $COGW is its burn mechanism, where 35% of the fees and profits generated are strategically burnt. This token burn is part of a broader strategy to balance immediate utility with future value appreciation.
Additionally, $COGW enables staking and farming opportunities, allowing users to earn rewards. Staking yields an annual percentage yield (APY) and allows access to premium AI models.
Meanwhile, farming involves providing liquidity, with rewards proportionate to the amount and duration of tokens deposited. This structure encourages user participation and investment in the ecosystem.
Furthermore, the project has a rewards system that incentivizes user engagement through task completion, referrals, and feedback. This tiered rewards approach can further improve user experience and encourage interaction with the platform, ensuring an active community.
Cogwise Tokenomics And Presale

Per the Cogwise whitepaper, the platform has a supply cap of 1 billion $COGW tokens. The allocation is community-focused, with 40% set aside for the presale for early buyers. The remaining distribution includes 15% for platform development, 12% for CEX/DEX liquidity to ensure smooth market operations, and 10% for the team.
Additionally, 9% is dedicated to staking, encouraging user participation in network security, 7% to marketing to expand outreach, 4% to rewards, creating user engagement, and 3% is reserved for the company, ensuring operational stability.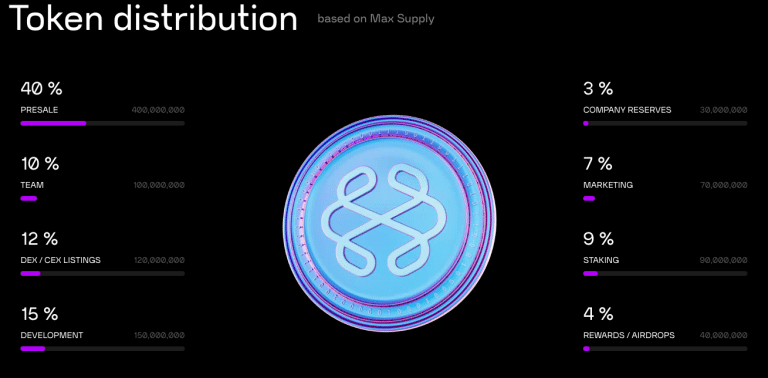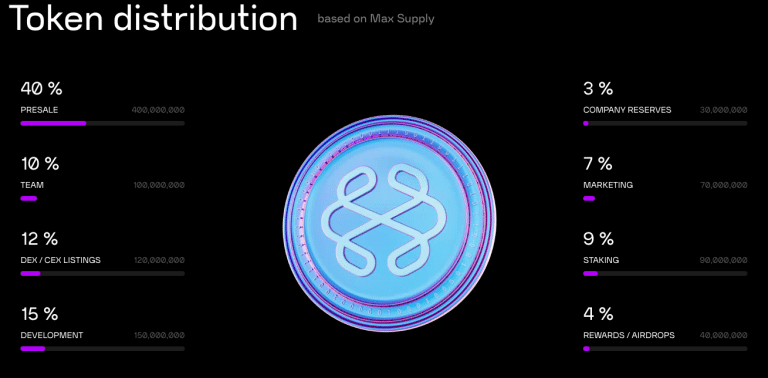 The current presale stage offers $COGW tokens at $0.03, with the price set to rise incrementally by $0.005 in each stage, reaching $0.05 in the final stage.
This structured pricing strategy offers an attractive opportunity for early investors, especially considering the projected price increase to $0.065 upon the token's initial exchange offering (IEO), translating to a potential upside of 116% from the current presale value. Interested users can enter the Cogwise Telegram channel for the latest project updates.
Disclaimer: Crypto is a high-risk asset class. This article is provided for informational purposes and does not constitute investment advice. You could lose all of your capital.
Register at Binance